Picked up a VR ute crazy cheap, dirty, none runner but its straight, had it over 6mths, don't know why i actually brought it, but owell.
plan is, quick respray, stick the spare 5lt auto in it that's sitting here, pinch parts of the VS Calais that's here to make it look like a nice ute,
already stripped the engine bay ready for a coat of paint, interior is out since it was one big rats nest.

i would have photos uploaded but photobucket doesn't seem to be working properly
why have one 202, when you can have 12 and counting, 30+ car graveyard just for fun aswell
---
Post your photos directly to the forum, see below, you can attach as a file, then place the file inline

According to chemistry, alcohol is a solution...
---
worked it out, pics on my phone were set as live, so that stupid 2 second video thing, hopefully this will work now,
ute was covered in crap, moss, dirt, bird shit, thats after a half decent clean, so should be good after a quick respray
why have one 202, when you can have 12 and counting, 30+ car graveyard just for fun aswell
---
Looks ok as it is from a distance
---
little bit more done today, replaced most gaskets on the engine, gave it a respray rebuild, got the oil system primed since ive always had troubles with the v8s.
sand blasted the rh chassis rail as i guess at some point a master cylinder was leaking on it and the battery tray, will cut it out and replace with another, since the rust is abit worse.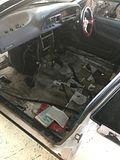 will hopefully have the engine bay primed tomorrow.
why have one 202, when you can have 12 and counting, 30+ car graveyard just for fun aswell
---
bit more progress, engine bay is painted, motor and box is in, turns over by the key, which i was kinda worried about since im using a sedan bcm, hopefully everything will still work,
just need to clean the fuel tank out, and resolder one of the breather lines, and should be almost ready to start
why have one 202, when you can have 12 and counting, 30+ car graveyard just for fun aswell
---
Who is online
Users browsing this forum: No registered users and 4 guests