Something that I've been toying with for a few years, was adding a Hub Dyno along side my existing chassis dyno for my own/customers higher HP vehicles.
I had received quotes over the years from Mainline & Dyno Dynamics, but could never justify the $95-110k asking price, since I can go weeks without using my existing one. So I then decided to go down the path of "building" my own, borrowing idea's from some existing units people had made already & publicized on youtube etc.
So i started investigating my options, I started with getting a quote for some retarders back in Nov 2019 from a local supplier.
CFK-390(192V) @$8,810 plus GST
CFK-500(192V) @$9,493 plus GST
Max Brake Torque NM - 3370 / 3820
Made by KLAM in Spain
Thinking bigger is always better, I went with the CFK-500's (realized i definitely went over-kill once they arrived)

Control System - Off the shelf from sportsdevices.com
SP6 - AWD capable/upgradable (If i want to make some smaller front pods later on)
$10.8k once customs was paid
Retarders took a couple of months from ordering to rocking up back in Nov 2020, I then ordered the control system around feb this year.
Fabrication wise, I can't weld to save my life. Luckily one of my friends has a business that does Drill rig refurbs, so they produce a lot of replacement parts & thus have a Drafty & boiley's on staff.
So with a design done in cad.
they started fab a few months back (in-between jobs) & on friday we dropped one of the retarders into a frame after fitting wheels for test fitting, before final welds/modifications are done before it get's painted.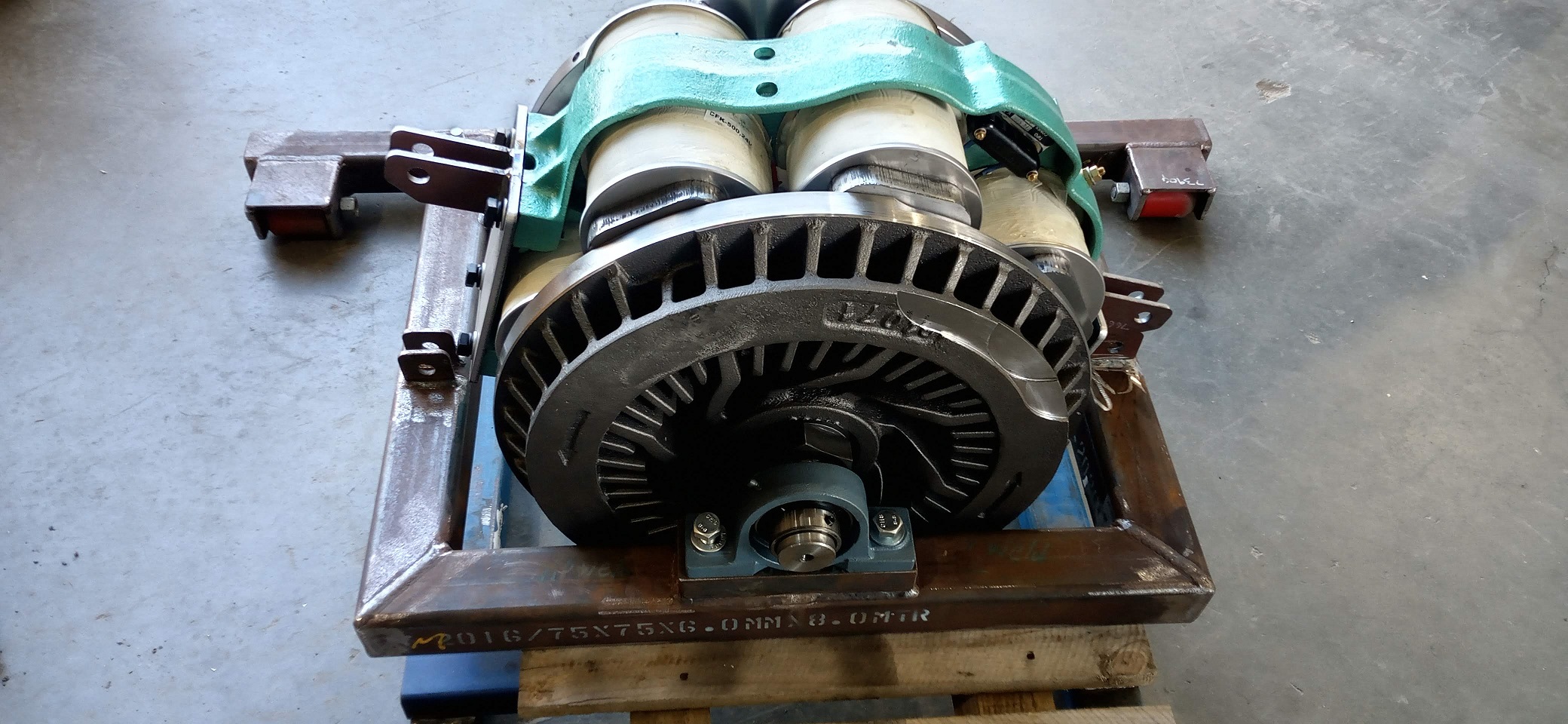 Originally we were going to use a hydraulic jack to adjust the angle of the dyno, but decided to go even simpler & use a turn buckle. Since i'm lazy & will probably set/forget it. Most cars I've used on hub dyno's are always supported under the diff anyway.
Still waiting on the various machined hubs & shafts, speed sensing will come from a 60 tooth reluctor that will get sandwiched to the shaft adapter.
Will update as we get more done, then show the electrical side.
---
This is awesome! I'd love to do this some day.

Quick question. Is the angle adjustment for vehicles with independent suspension? Or something else I'm not thinking about?
LS1 Boost OS: If you have Questions about the current release post
Here
. If you have feature suggestions post in the
Development Thread
---
Love it

According to chemistry, alcohol is a solution...
---
bubba2533 wrote:This is awesome! I'd love to do this some day.

Quick question. Is the angle adjustment for vehicles with independent suspension? Or something else I'm not thinking about?
bang on.
there is a guy in melbourne who built his own and he used an airbag setup to adjust his.
I've put my own ve ute on a hub dyno, & since you need to jack the car up to get wheels off, everyone tends to leave the jack under the diff anyway & pull the dyno hub in.
Mainline allows for adjustment by using a CV shaft setup. I've not seen how DD do theirs.
---
Looks awesome I had a couple retarders and was going to build one as well but got lazy and brought one let me know if U need any pictures etc of how mine is set up and works
---
Small update before christmas, currently away for work so while i sit in my room what better time to update the thread.

Sadly no pics to show, will grab some when im back home later in the week.

Anyway, before i flew out. all the wheel hub adapters had been made, along with shaft adapters. We dummy assembled the second unit, but were a couple of pillow blocks short to have it all ready to check alignment on both shafts which wasn't a big deal. We are definitely out on 1, but that'll just be a matter of either shimming or grinding down the upright support where the 2 pillow blocks support the main shaft & then doing a final weld.

Speaking of which, to join the main hub shaft to the retarder we are using industrial gear couplers. Boy are these killer. In fact better then what i have on my dyno dynamics unit.


Bonus is, where the bolts go through the coupler is what holds the reluctor wheel for the speed sensor. So we didn't need to machine anything special up.

We have also thought about adding a couple of stabilizers on either side to the frame so that if the ground is un-even your not supporting the retarder frame to the bottom via just the rear upright. It also provides the lifting point for tilting the drive shaft down.

Rear upright (not in the pictures), this will be another bit of RHS cut to put the frame/shaft level, since it's unlikely that the axle of a car will require the shaft to be angled upwards, this will act as the flat plane/default angle.

Will kind of sit in a channel so that a bolt can be put through it to stop it from tilting if required & allow for limiting.
---
Cool, watching with interest

---
I need this in my life! Haha, Street tuning is average at best!
[youtube]https://www.youtube.com/channel/UC9mxPSbP55Odjc5acnkETHA[/youtube]
---
Adapters were sent off for hardening while i was away & have come back.


These boys won't be rusting any time soon.
---
Today i got back into setting up the new dyno cabinet.

Cabinet was originally a standard 24ru unit that i fitted some wheels to, I will probably need to add another set to the rear swing door since the Retarder power supplies & connectors are bolted to & it has a tendency to want to tilt over when the door is open.

Anyway on to work, I pretty much eye balled all my drill holes & mounting, no measurements done, so if you suffer from OCD then this will probably annoy you. haha.

Drilled, then used 5mm nutserts for the Power supplies & sockets, Since I only had 1 of the power supplies at the workshop, i just used the same unit in both spots to work out best locations for everything.



The idea is I will be supplying the cabinet 3 phase power from a wall socket, then each retarder will get a power phase, along with the cabinet devices, i.e computer etc.

I'll be using sockets/connectors for the power to the retarders as I want to be able to wrap the cables up when not in use or for moving, which is why you see a 4 pin connector already wired in. The other side is the AC power in, which will come from inside the cabinet.


The other wires inside the PS, are the PWM signal for brake load & Canbus for PS diagnostics etc.

I also mounted the weather station on a side panel, which i'll get a pic of another time.
---
Who is online
Users browsing this forum: No registered users and 2 guests