---
Not that I could find, they aren't as popular as the older autos.
I'm the director of VSH (Vlad's Spec Holden), because HSV were doing it ass about.
---
I'd imagine most guys doing 6L80 conversions are doing them onto earlier LS motors so no adaptor plates would be required.

There is a guy on the JC forum who has done a 5L60 swap behind an ecotec in a VX but he had his own custom adaptor plate made at a machine shop.
---
Did a bit of a search for adapter plates and came up with Chevy 60 degree V6 which is the same as Ecometric/ to 350 trans.
Just wondering if this would fit?
---
Similar I think. the later style has the extra bolt hole at 12 O'clock that the earlier chev pattern doesn't I believe. 350 trans is also not a full circle bellhousing?
6l80 bellhousing
T350 bellhousing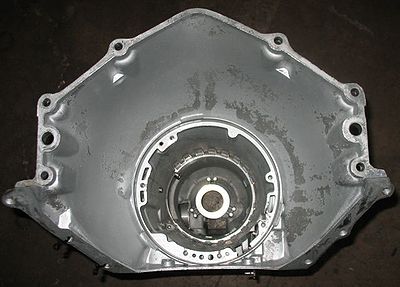 Last edited by
immortality
on Mon Dec 28, 2020 11:56 am, edited 1 time in total.
---
I'm trying to dig up the lead from last night.
Will post when I find

Missed those photos, but I understood where you were going.
---
Just thinking, Delco might know seeing as I'm sure they are running a T350 behind the 3800 V6 in the VB turbo Commy they drag race.
---
---
Definitely. Been that it's an older non full circle adaptor it probably makes the starter motor issue less of a problem.
---
---
Return to Engine/Transmision Mechanical
Who is online
Users browsing this forum: No registered users and 9 guests