oldn64 wrote:

Madmatt2006 wrote:Hi Tazzi

The ECM BCM and PIM and keyhead are all linked

that's what my programing guy did when he changed programing to manual and then linked them all up I had to get the security codes for him to do that.

I have had 2 BCM ECM programed but always linked to original PIM

will a faulty PIM cause problem with the car starting?

Remember car will start only with cam sensors unplugged.

Hang on, lets go back a little......The motor runs with the cam sensors unplugged. This means it cannot be your security, as this is initiated before a start. Definitely look at the wiring side. Do you have a scan tool or access to one? The Engine light will probably be due to the unplugged sensors so you would need to clear those or at least read them to get half a clue. I would clear codes. plug all sensors in. Turn engine over and see whether there is a code fault logged. then look at this as a start. This is going to take a long time to diagnose. Plod away and see what you can find.

This definitely sounds like wiring or like BIGGVL has stated a mech issue, However, the fact it run without the sensors and the engine is smooth then i lean more to electrical.

?

Cheers

oldn64

If you plugg the "suss" sensor in first then does the engin just die
Hi olden64

when all plugged in and turn over will never start and no error code either (I will double check tonight), if I plugin just the suspect sensor by it self it will die. Remember I have already change the suspect sensor. I changed all 4 cam sensors and crank sensor last night.
I think wiring to!
BIGGVL has stated a mech issue, with the plates the cam sensor reads can they be checked through CAM sensor holes on right bank. if it was out it should throw and error code right? Ah also if it was just that it should start with the 3 good ones plugged in and it will not. Have to unplug.
When I make video to post, I will show all and hook up scan tool also so can see every thing
Thanks Guys for all the advice I really appreciate it

---
Hi Guy's
here's the video I made so you can see what it is doing

the errors found from video
cam shaft position actuator circuit open bank1
cam shaft position A circuit bank1 or single sensor
cam shaft position actuator circuit open bank1
all errors stored/pending
p0013
p0343
p0368
p0348
p0393
p0341
Hope this helps

I guess the errors are from the plugging of the sensors?
---
Hi Guy's

I found my little usb camera for looking inside stuff

I took a video of suspect cam plate!
I also checked the pulse wire on right intake, I saw a video and this is what I did unplug right intake cam sensor plug and plug in spare cam sensor then at pin a4 on ECU I put sewing pin the put multi meter to DC volts put, then put multi meter black to negative, then put multi meter red to pin a4 get bit of metal and swing past sensor, the voltage drops to show sensor is reading. it's reading fine to ecu for pulse on right intake cam sensor

---
have you checked for opens in the ground and signal circuits and for a short in the power supply for your cam sensor harness, i doubt it is a mechanical issue because you have swapped motors and have the same issue, there is a possability that the harness got damaged from the engine removal from the last owner.
---
Hi Comcal76

I looked into the wiring and thought the only loom left is the one from ECU into the cabin, so I took the Delphi connector apart OMG these don't look right

see picture pin holes not round... would this loom have any effect on the cam sensors? I checked engine loom pins they look brand new.
---
Hi Guy's back again with an update I fixed the pins in the loom from ecu to cabin no difference

but I did find another thing

I checked my engine looms cam sensor wiring and the middle wire (pulse) in the diagram is different pin out

there is something odd
mine is
127 right exhaust. should be a36 is a20
128 left exhaust. should be a20 is a60
129 left intake. should be a53 is a75
130 right intake. should be a4 is a4
look at the diagram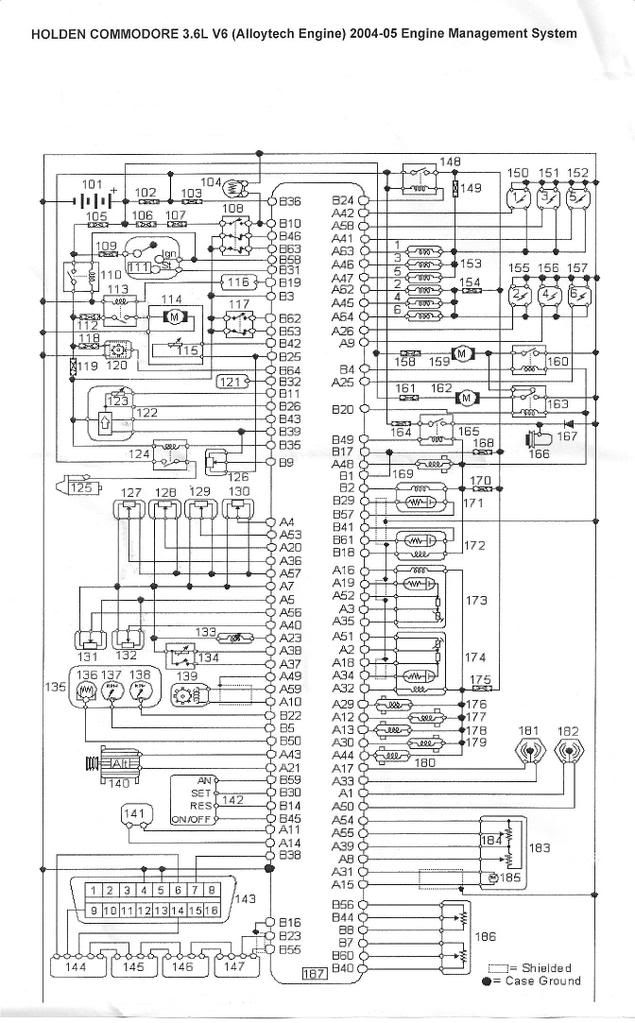 any ideas why?? the Delphi connector look untouched, before I opened it up.
this dam ute is holding me up

I want to get started on the VH commodore full restore, shes stripped to the shell waiting

---
Hi Guy's

is there a difference in the looms relating to cam sensors and year loom was made? Do you think I should swap the cam wires around to right location? I don't know why pin out is different..
---
here is the cam sensor page from the genuine holden manual for both 2005 and 2006. they look the same to me.



---
Hi Jayme

They look the same to me also. The diagram I have been comparing my car off is it the right one? same pin numbers as yours with the cam wiring, I found it at just Commodores, said 190kw alloytec.
I don't know why my pin outs are different.
127 right exhaust. should be a36 is a20
128 left exhaust. should be a20 is a60
129 left intake. should be a53 is a75
130 right intake. should be a4 is a4
I did this as a pin to pin test with multi meter to locate the wires when they didn't check out from point a to b.
Last edited by
Madmatt2006
on Mon Sep 17, 2018 3:27 pm, edited 1 time in total.
---
compare the holden diagram sensor locations with your diagram. even better ignore yours and use the holden diagram for reference when testing.
you have right exhaust and left exhaust backwards. to be clearer..

driver side exh = A20
Driver side intake = A4
pass side exh = A36
Pass side exh = A53
so assuming you mean "right" = Drivers side then both drivers side cam sensors are in the correct pins. only the passenger side sensors appear to be going to the wrong pins on the computer. do you have a 2nd loom there to check against?
---
Return to Engine/Transmision Mechanical
Who is online
Users browsing this forum: No registered users and 1 guest